SEPTEMBER 2008 - PERSEUS, A LIFE CHANGING RECEIVER
I have added another article about the Perseus SDR, entitled as above. Click below to view.
PERSEUS - A LIFE CHANGING RECEIVER
THE BEST GETS EVEN BETTER

December 19th 2008: Well another new release of the Perseus software, 2.1a, and it is now smoother running than ever. I almost feel guilty and embarrased about having requests for a couple of little extras to make the software complete. If you have read through this web site, you will know that my own personal interest is MW dxing, especially Transatlantic DX. Therefore I write these updates with this in mind.

As I said, I am writing from a MW DXer's point of view. I use the recording facility almost every night to record specific top of the hours, programmed by an excellent little add on, called "auto hot keys". The PERSEUS software combined with AUTOHOTKEYS and Matthias Zwoch's amazing scripts, have changed my style of MW dxing forever.

PLAYBACK BAR: In he latest version of the software NICO has repaired the bug in playback bar, which was very ropey with longer files. If like me, you are a MW dxer, and use the record facility regularly, I suppose like me you could do with a much wider/ thicker playback bar, rather than the very narrow fiddly one. I made my own additions the other day but alas, only by photo manifulation, the limit of my capabilities. Click below to view. I have included a PAUSE button on my own imaginary software, as well as next and previous buttons for playing through recordings. (Another item us MW dxers really would like to see incorporated). I have made the playback bar about twice as wide. As it stands at the moment, it is not as wide as the S meter!! I have also added a 5 seconds advance and 5 seconds back button. This is much the same as in WINAMP. That can be advanced 5 seconds by using the arrows on the keyboard.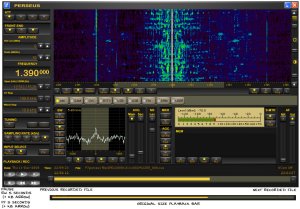 My own imaginary update. Click to enlarge
So do I know of any little bugs that still need ironed out?? YES. Again in the playback bar, if you miss the tiny bar during playback, while sending the file forward or back, PERSEUS goes into a mode like a signal generator. This happens regularly, and can be a real pain with the noise of the sudden tone at full volume. If the signal generator mode doesn't come on, the playback bar goes into repeat mode with a very small section of the file, resulting in the impression of sticking/ hanging. If the playback bar was twice as thick, I think both problems would disappear.

There is a very unimportant bug, which is barely worth talking about, but it may raise awareness of my way of resolving it. During live DXing, perhaps immediately after listening to recordings, the frequency will stop at a point where it shouldn't and it becomes impossible to tune any further in one direction, eg will not tune below 780kHz. This would be on the 2mHz mode. To rectify quickly, briefly switch to 1mHz mode and back, and problem solved.

Switching to 1mHz and back to 2mHz can also solve the odd stuttery problem that may occur.

I have a another stuttery problem when I have been out at the pub!!! True!! Everything in the old cold shack is switched off if I am away out for the night, and during the extreme cold weather, when I come back in at night or even the next morning, the live dxing is even a struggle until the shack is warmed up. I put this down to the PC being sluggish during extreme cold, and not any bug or fault with the PERSEUS. I just thought I would mention it in the passing.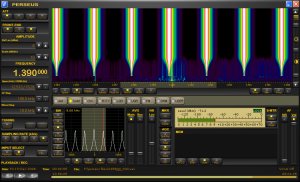 Perseus in a mad loud tone mode


Maybe it is I who is in the minority, but I assumed the record facility is the reason most dxers would buy a PERSEUS. Thus I would hope that the main selling point of the whole receiver, the ability to make wideband recordings, and play them back, would be the main focus of attention to strive for perfection. We are close, bar a few bugs, and whistles. Loud whistles!!

And a final personal note. If it had not been for the record facility, I would still have been using my NRD 545 rather than have an rf noisy PC on all the time. Now I strive for an RF quiet PC!!

HAM OPERATORS AND PERSEUS: Let me comment about one use for PERSEUS which doesn't concern me, yet I feel PERSEUS is a very important workhorse to another part of the radio hobby. I have no idea of any benefit a PERSEUS SDR would be to an amateur station, whose main interest is the ham bands and QSOing. I thought it might be a bit of a pain fiddling around with a PC while having a chinwag. I am obviously missing something, because there is additional software now to use Perseus SDR in conjunction with ham tranceivers. I must make enquiries about this, as I have no idea about this side of the radio hobby at all. I have passed the City & Guilds exam back in 1984, but have never used it. I was thinking about a license application in the new year. The UK have a lifetime one off payment, like a car driving license now. CW is no longer required either, so I would straight away have a full "class A" I guess. I think for simple chin wag style QSO, I would be happier with the PC switched off anyway if there is a lot of RF around. But I remember the days not so very long back when I would never have had a PC or rf noisy screen anywhere near my beloved MW dxing sessions!!
---

THE RACE HAS BEEN WON

October 2008: If there was a race to achieve a goal in SDR technology, then the race is won. That is assuming you are a MW dxer like I am. The ultimate dream used to be about being able to record the whole band during a good opening. That dream has become a reality thanks to NICO and his PERSEUS technology. I really feel any little niggles in the software have fallen into insignificance.

---


September 3rd 2008: For the record, another massive improvement in the software is just around the corner. The ability to record the whole MW band!!! Unbelievable technology!! Therewill be no more bad decisions about whether to record the hf end of mw or the lf end. The full sweep will be of 1600khz!! That's right, enough to record LW, the lf beacons, and still record mw up to 1700khz, with room to spare!! I am hopeful that it will chug along on my current PC, but if it doesn't, so be it. I may have to buy a dual core board.

Version 1.1b of the software is the best yet. So smooth and no problems to talk of. The playback problem that was experienced with any version above 1.0 has been addressed, and it runs flawlessly on an AMD 2.8g machine with a gig of RAM. I could do with the playback bar being a little wider than it is. It can be fiddly if you use it a lot, like I do.

Extra Bandwidth: I missed a quirk of the software until the other night. I did notice that by changing the bandwidth to 50khz you were able to squeeze out a little more bandwidth of a recording than the 800khz which is guaranteed. Our Scandanavian friend also informed us on the Perseus group, that direct freq entry is possible, and you are up the band in uncharted territory. The receiver samples 1000khz, but only shows 800 on the screen. Therefore you can actually use the 100khz or so at either end of the recording. It seems the best way to achieve this is simply dragging with the left mouse button held down, on the filter window, and you have the use of SAM and bandwidth. Thanks to Paul C and Odd J for the help and observations with this. It has given me new stations over the weekend when the band was active. So now I have a load of other files to check now at the outer limits!! After 100khz is reached, a mirror image of part of the band kicks in. I think NICO frowns upon the extra bandwidth, but it makes such a difference. An extra 200kHz.

I am recording Perseus files now with a centre frequency of 1040. This gives me an official 400khz either side, but in reality, it gives me 500khz more or less. So I am covering 540 - 1540, and not the previously thought 640 - 1440!! Far out!! The band starts to fold back on itself after the outer limits are reached, and it is very obvious by using 1040 as the centre frequency which is where that fold begins. I have a very strong local on 1035 which is off the clock here, so it is obvious to say the least. The fold seems to go back to the centre freq!!


Playback Bar Click: Another little quirk I missed until recently is that by clicking on the left of the playback bar, the file will jump to the next in the set, but only if it is a multiple file recording.


Odd Stations Appearing: Yet another oddity I had was odd signals appearing where they shouldn't be. eg 1531. I switched off the software, and back on and the odd strong signal was still there. I checked other receivers, but there was nothing heard. So I switched from 1mhz sampling to 500khz, (800 to 400) and back. The problem disappeared.

Autohotkeys: I had my first problem ever encountered with the auto hotkeys timer recently. Maybe it was something to do with me listening to some old 400khz files before I set the timer/ files up. I have been recording 0400, 0430 and 0500 recently. My 0400 recording seemed as though there was no aerial connected. My 0430 and 0500 files had plenty signal, but only recorded 400khz. All I did was remove all the registry entries and start again the next night, and all was well. A glitch I guess.

Autohotkeys is fine so long as the text file is written properly. On 3rd Sept, I thought I would have a listen at 0600 to see if it is still too late for dx. It was. But in the proccess of editing a new .ahk text file, I forgot to change the file names from 0500 etc. So the 0500 files recorded fine, but I found that the 0600 files had overwritten them, because they used the same file names!! We learn!!
---
VERSION 1.0 STILL A HOT FAVOURITE
5th June 2008: I have had a couple of requests for version 1.0 which Nico has not made available on his own site. So assuming there is no problems with me making it available, click on the link. I was going to add the files required for the auto hotkeys to work, but I need a slightly longer time to prepare than I have tonight.

NB: SINCE THIS ARTICLE WAS WRITTEN IN THE SUMMER OF 2008, NEW SOFTWARE RELEASES HAVE ALLOWED FLAWLESS PLAYBACK, SO THIS LINK HAS BEEN REMOVED.

2nd May 2008 - ANSWERS TO NO PLAYBACK ON PERSEUS 1.0f : An old chap I am friendly with needs some PC assistance every now and again. I have had his PC in for a clean out this week, and decided to try the Perseus on a machine I thought was similar to my own. He has one of those "advent" machines, 2.8g processor, 1g RAM. Amazingly I could record and playback at 800kHz flawlessly, with audio latency at default of 9 on version 1.0f. Yet on my own 2 PCs, both 2.8g machines, and about 3 others I have tried, it will make no effort to playback. Everything else works fine.

I do not use any USB removable drives while PERSEUS runs. (I do use them for storage though, but keep them disconnected if using Perseus) There is an external USB sound card in one machine, but the other is on board audio. One PC is an AMD 2800, one is an Intel 2800. One PC has 1g RAM while the other has 512. Just what the difference with version 1.0f and 1.0 is, I have no idea. Nico?? 1.0f seems to desire a much more powerful PC altogether than the original spec for the beta versions. So here was a machine of similar spec to my own, working flawlessly!!

I made a fresh install of windows XP on a spare blank hard drive fitted to my old friends PC. Perseus 1.0f runs flawlessly on playback. So it is for sure a hardware problem. I was considering the fact his machine has the hidden partition with all the crap "advent" fancy lumbering you with as default. This did include windows XP updates up to a certain date,, much newer than my sce pack 2 version, and also included dotnet framework etc. I had wondered if this was the reason. But.. no. .

What is the difference? Well I checked more in depth, and the working PC is a 2.8g INTEL D chip, dual core. So I guess that's the answer. My own Intel machine is a single core 2.8g Celeron processor. OK, it's time for a PC upgrade.... The single core 2.8 Celeron makes no effort to play back even a 125khz recording.

Maybe version 1.0 should still be made public for the sake of anyone who has just bought a PERSEUS based on the old minimum spec required, and cannot play back recordings, one of the most important features for some dxers. I suspect the minimum system requirements needs updated.
---

25th April 2008 - PERSEUS FILES UPLOADED TO FTP SERVER: I have uploaded 2 large PERSEUS files, recorded on 26th March 2008 at 0600, and 12th April 2008 at 0500. Both cover the freq range of 550 - 1350kHz. If WINRAD is used, coverage is a little extended.

I ended up having to use split files, due to the broadband connection tripping out. I even tried uploading at a more reliable connection at a friend's in town, but upload speed is restricted, and the connection tripped out anyway after 2 days!!

Sometimes the option of carrying on where you left off is available, but it wasn't this time. So after the large file stopped just short of 1.3gig, I decided to split the files with winrar. It may be a pain if you don't have a copy of WINRAR, but at least the files are there and available if anyone wants a listen to the mw band at 0500 and 0600utc in the recent weeks. Download all the files and open part 1. WINRAR will rebuild the original file in a few minutes. At least all the files should be downloadable quickly, unlike the one I uploaded to Rapidshare a few months back.

Files are stored in F4FQM, Laurent Laborde's ftp server, which I don't think has an http address yet. Therefore an ftp prog is required. I use ftp explorer which has no clutter, but there are many freebies around. Log in details are as follows.

host address: www.network42.org
login : perseus
password : perseus

NB: This ftp server is for use only for PERSEUS related material.

I have a folder called ken_tadx. There are two folders within for the two different downloads, and a text file, basically telling the same story as this.

Remember that WINRAD can playback a PERSEUS file without the need for hardware, although it is no where near as user friendly as the PERSEUS software.

Both days have some very strong TADX signals. NOT every morning is like this!! It has been a good equinox though.

Below is a list of the logs made in the log book. Not all stations audible will be logged though. I don't usually bother with WBBR and the likes. .

26th March: 0600

12th April: 0500



1330 WRCA
1290 CJBK
1190 WOWO
1170 WWVA
1160 WYLL
1140 CBC
1130 WBBR,
1120 KMOX
1110 WBT
1100 WTAM
1080 WTIC
1070 CBC
1020 KDKA
1010 CFRB
990 CBC vy wk
970 WZAN
950 CKNB
940 Montreal
930 CFBC
920 CKNX
890 WAMG
880 WCBS
870 WWL
860 CBC (F)
850 WEEI
840 WHAS
830 WCRN
800 CKLW
780 KIX
770 WABC
760 WJR
730 CKAC
700 WLW wk
660 WFAN
640 CBC
600 CBC
620 VOCM
590 VOCM
580 CFRA
560 KIX



1350 ESPN no id
1330 WRCA
1320 CJMR 0459
1170 WWVA
1140 CBC +SS
1130 WBBR
1110 WBT
1100 WTAM
1080 WTIC
1050 ESPN NY
1020 KDKA
1010 WINS
1010 CFRB
960 THE ZONE WEAV
950 CKNB
940 WINZ
920 CJCH
880 WCBS
870 WWL (VG)
830 WCRN
790 WAXY
780 CFTR
750 CBC (vy wk)
740 VOCM
730 CKAC
710 CUBA
700 WLW
680 WRKO
670 CUBA
660 WFAN
650 VOCM
640 CBC
620 VOCM
610 MIX FF / UBA/ WIOD
600 MIC CBC / CUBA
590 VOCM 0458
570 CUBA
560 KIX




Also note that Radio Moscow's / Vo Russia transmitter on 1323 at 0600, 15s or so before toth has CW, just LF of the carrier.

I really enjoyed listening to Guy's files, and also the file from Bob in Carolina, although Bob's recording was not at the top of the hour!! I was amazed at the weak signals in Carolina on frequencies I would have expected to be loud.

One day I may have a PERSEUS file with an opening to the west coast!!
---

25th April: - MORE PLAYBACK PROBLEMS WITH PERSEUS 1.0f: Since the release of version 1.0e and 1.0f, I have not been able to playback recorded files, and judging by the yahoo group, neither have a number of others. Oddly enough a number of other folks report that they have no problems with vs 1.0e and 1.0f. I am not sure what the common factor is. One of the laptops I tried ran VISTA, and also showed the same problem.

This is no big deal for now, although I don't have much air time experience of the recent releases, mainly because much of my dxing is done on the timer through the night at this time of year.

So I have continued to use version 1.0 which works for me without any problems. I am convinced there is a bug somewhere. On one of these system monitors, the processor is running quite easily both for recording, as well as live listening. During an attempt to playback, the software doesn't hang. It just stops. I can switch the receiver back to live radio easily, and checking the processor load at this time, shows only a load as if the Perseus software has just been switched off. Anything else will run on the PC. There is no hang up on the operating system.

I have tried the following PCs:

Athlon 2.8g runs at about 2.1g, 1g ram
Intel p4 2.8g runs at 2.8g
Another Athlon which is around 2g
2 lap tops, one a dual core.

Both laptops were basically new, but spec a bit low. They are selling 1.6g laptops on the high street these days, quite cheap.

All 5 have the same symptoms with version 1.0e/f. No playback, even with 125k recordings. All 5 run version 1.0 flawlessly, even at 1m/s.

Either there is a software bug, or the minimum PC spec required needs to be much higher than currently listed. The movie I have made a couple of weeks ago showing this problem is still on line.. click here.
---
12th April 2008: - PLAYBACK PROBLEMS WITH PERSEUS 1.0f: I have been having a problem with the playback of PERSEUS 1.0e. Strange though it is, not everyone has the same trouble. If I need to upgrade my PC, then so be it, though I have to ask one question. Is the new version PERSEUS 1.0e so much more memory/ power hungry that the previous editions?? What am I missing???

Main PC here is an AMD 2800, Windows XP, SP2, 512 RAM, which copes fine with version 1.0, even recording and playback of 800khz. I never use this PC on line, I have a dedicated web PC, to prevent junk getting into the system. There is nothing running in the background at start up except the volume control. Maybe it is going to be "just one of those things that happens" with technology.

As you can see in this short movie clip, I first playback a file from 0500 this morning, of WBBR 1130, using vs 1.0. Then I start vs 1.0e and try to play the same file. It stops almost straight away. I tried another PC last night, which showed the same results. but will try some other stuff later today. My camera work is a little rough, no tripod or anything this morning !! If anyone wants a look at the movie clip, click here (23meg).


11th April 2008: - BEVERAGE MATCHING TO PERSEUS: I have been meaning to include the following for a few months now, and have not got around to posting it. I have a couple of images of a transformer I use in line with my main beverage antenna for MW dxing. The partial screenshot below shows the difference that this makes is quite substantial. It shows up clearly on the so called X band above 1600kHz, as quite an improvement. (Top half of the screen, no balun, bottom half, connected in line). The signals on X band are transatlantic stations coming through. The improvement can both be seen here, and also heard by the "ear test".

Incidentally, my antenna starts about 200m away from the shack. You can see the photos on the antenna page of the long feeder. This means I have a very very long feeder. I don't know if this helps me or not, but I don't seem overly bothered by QRN from the PC operating close to the Perseus. I guess years ago, I would have had the PC off, but it now seems an essential part of DXing, and it is now a case of trying to achieve the quietest possible PC!! I have in the past changed a noisy PC power supply, which made a huge difference. I do not know of any way of telling if a power supply is going to be noisy or not, without a simple plug in trial. It was just a case of second time lucky.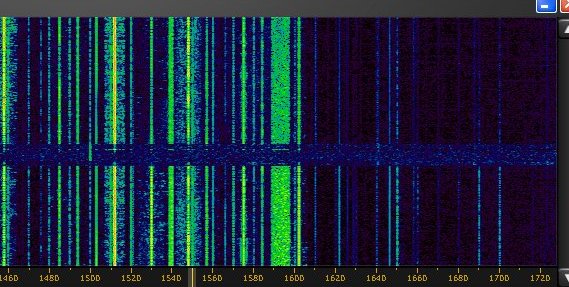 The transformer below consists of 2 windings, 21 turns and 7 turns. The 7 turn winding goes to the receiver, and the 21 turn winding to the antenna. There is an additional 7 turn winding on this particular transformer which goes to another receiver sometimes, if I need to run two receivers off the same antenna. It may be a bit rough just now. I do intend to make a switching panel, so that any receiver can be switched to any antenna, without pulling plugs in and out all the time. I am getting around to it. There are other variations for the transformer on the web. 30/10, 18/6, etc. But it is basically a 3:1 transformer. (The same design as used for EWE antennas)
---
1st APRIL 2008:
After a month of using PERSEUS 1.0, I think it is overdue some comments.
What can I say........ recording 800kHz of bandwidth. A MW dxers dream come true. I wonder how long before the ultimate bandwidth of 1200kHz becomes a reality. This would allow recording of 530 - 1700, with a little to spare!!
Recording 800kHz is almost at my own PC limit, but not quite. It runs smoothly, so long as there are no other memory hungry gadgets or other software running.
I have to be truthful, and say that the PERSEUS receiver has transformed my dxing habits completely. Revolutionised them in fact. The poor old NRD 545 has been ignored almost. A fine situation from one who once viewed SDRs with suspicion, exclusively for being anywhere near an rf noisy PC!!!
I jokingly mentioned on the PERSEUS newsgroup just recently, that the drawback of the PERSEUS is the danger of becoming a DX hermit, social life in tatters, sitting in front of the PC trawling through gigs and gigs of recordings!! If you are not harsh enough, you can also end up filling 500gig drives as though they were floppies!! lol...
---
AUTOMATED RECORDING USING AUTOHOTKEY:
This may be old hat shortly as PERSEUS it is said will have an inbuilt timer eventually. But one other little piece of add on software has greatly helped make Perseus even better. Matthias Zwoch has provided a script for AUTOHOTKEY, which is a piece of software which allows the PERSEUS SDR to record on the hour (Or any other user defined time) through the night while catching up on much needed beauty sleep!! Initially it looked a dead loss for me, being in German, but thanks to the English translation by Guido Schotmans, I had it working in no time. Below are the instructions:
1)
Install the freeware "Autohotkey" from
http://www.autohotkey.com/download/
. Download the 1969 KB file (not the zip file). The installation is straight forward.
2)
Download the scrip by Mattias from
http://www.ssb.de/downloads/PerseusScripting.zip
3)
You also need a tool to end the hanging processes. That is pskill.exe downloadable from
http://download.sysinternals.com/Files/PsTools.zip
.
I thought about creating a zip file which included all the necessary tools, but thought the better of it. Even though all tools are in the public domain, someone somewhere probably wouldn't like it!!
I had good results by copying only the file pskill.exe from the PSTools zip file into the same folder where the PERSEUS operating software is situated. I had errors initially when the .ahk files and the pskill.exe files were in a folder other than the PERSEUS folder. So I simply tried them within the Perseus folder, and had no trouble after that.
EDITING THE TEXT FILES:
I have set my text files to record from xx57 - xx02. (For MW dxing most ids are around 59m 30s to 60m)
The text file, "perseus.ahk" must be edited to suit the user. Notepad, or notepad+ is ideal. Notepad+ is also freeware. (Right click/ open with, or right click/ edit with notepad+ etc) The first part of the text file to edit is as follows. (Line 23 to 27 in Notepad+) Only change the times, mid frequency, bandwidth and filename. The following file records from 0257 - 0302, with a mid freq of 1300kHz, therefore at a bandwidth of 800kHz, the recorded range is from 900 - 1700khz. The file name is simply "file0300".The instructions suggest not using underscores in the file name.
I have creatred a dozen or so copies, and renamed the files for each top of the hour through the night, and some half hours. I have in fact created several different files to allow recording of different frequencies. eg 550 - 850kHz, or 900 - 1700kHz, depending on preference. I also keep the text (.ahk) files in the PERSEUS folder. A couple of examples are shown here. "perseus_0200_900-1700.ahk", "perseus_0600_550-1350.ahk". I have shown the editable area here in
bold
. In a normal text file they are of course not bold.
---
;---------------------------
; Parameter
;---------------------------
Starttime := 0257 ;die Startzeit, vierstellig HHMM in Lokalzeit (Rechnerzeit)
Stoptime := 0302 ;die Stopzeit, wie oben
midfreq := "1300" ;einzustellende Mittenfrequenz
Bandwidth := 800 ;einzustellende Bandbreite 800,400,200 oder 100.
RecFile := "file0300" ;Namenswurzel für die aufzuzeichnenden Dateien. Kein "_" darin verwenden.Kurz!
Shutdown := "No" ;"Yes", wenn nach Abarbeitung Rechner heruntergefahren werden soll, sonst "No"
;
;
;---------------------------

The next part shows "Autohotkey" where perseus.exe, and pskill.exe are stored. "BaseDir" is the location of the recorded files. My own files are as follows, in the Perseus folder on the desktop.

;---------------------------
ToRun := "C:\Documents and Settings\Ken\Desktop\perseus\PERSEUS 1.0\perseus.exe" ;Wo der Perseus wohnt

WorkDir := "C:\Documents and Settings\Ken\Desktop\perseus\PERSEUS 1.0" ;Arbeitsverzeichnis, sonst findet er seine Dateien nicht

BaseDir := "F:\perseus files" ;Wurzelverzeichnis für die aufzuzeichnenden Dateien

PsKill := "C:\Documents and Settings\Ken\Desktop\perseus\PERSEUS 1.0\pskill.exe -t perseus.exe /accepteula" ;zum bereinigen hängender Perseus-Prozesse
;
;---------------------------

To activate the timer before turning in for the night, I have to click about 6 text files, (or right click, and run script). The script files sit on the system tray beside the clock until the time is reached for them to be launched. When I check in the morning, the files are recorded and ready to check. This is easily set up so that every night you can go to bed and record using the same pre made text files. It can not be set up days in advance.

What does this mean for my own DXing? Well I can now make sure I record at least the top of each hour through the night, when like most normal folks, I am asleep. At weekends, I may be at the pub or something, and again, I can set the automated system to record in my absence. So often I have missed dx because I have been out. In mid winter there may be an opening to the West coast like what happened this past November, around 1000utc. I might not be able to stay around for live dxing, and recording a wide 800kHz bandwidth is going to be like a dream come true.. If only I had the Perseus the day 710 KIRO etc were coming in at these lattitudes.

---

DAMN THE PERSEUS!!: As ever with new technology, scorn rears it's ugly head, and some dxers see PERSEUS users as somehow having some kind of unfair advantage. Advantage over what I wonder?? I never understood that attitude. Perseus is an additional DX tool.

Going back some years now, some dxers used to scorn at folks who had digital readouts, claiming that it was not real dxing. Maybe they want everyone to go back to domestic trannys?? I have heard it said that PERSEUS overnight recordings are not real dxing. What I will say is that there is no difference to having a video recorder set to record on and off during the night, unattended, than to have PERSEUS recording overnight unattended. Most of us will have work commitments and simply can't turn night into day, by dxing all night, more so on week nights. The signals are still coming through the airwaves, through to the same antennas, and into the same old cold radio shack. It is not as though we are listening on line and sending for a QSL under the pretence of listening to MW..... And believe me, listening to weak signals and trying to catch rare IDs on a recorded piece of bandwidth, is as much serious dxing as sitting in front of a receiver at 4am!! It may be a new way of achieving the same goal, but it is still good old fashioned AM dxing. Of that I have no doubt.

---
FACTORY DEFAULT SETTINGS / DELETING REGISTRY KEY:
No need to be scared. I know I was.. Nico gave the following info just recently on the news group.
To reset the software to its factory default, you need to delete a "key" in the Windows registry as follows:
1) Close the Perseus software.

2) Type "regedit" in the Windows Start/Run menu and browse the registry tree for the key:

HKEY_CURRENT_USER/Software/Microtelecom s.r.l./perseus
3) Delete the folder "v1.0" (and if you wish it so, the full microtelecom folder)
4) Restart the Perseus software.
---
FEB 20th 2008:
BIG 1.7 GIG FILE ADDED
: Guy Atkins on his blog page added a large file the other day, of about 1.7g. This was a PERSEUS 400khz top of the hour file. For some reason the max speed I could achieve was around 3 - 4k per second, like a dial up connection. Sadly I never managed to download it direct, but I did pick it up from RAPIDSHARE thanks to a generous European dxer who had a better connection to the original file than I did It was fascinating tuning around at the top of the hour on the West Coast of the USA. It was also amazing to hear quite a number of stations I have heard at home!!. Guy has added a few more smaller files from 59m thru 0m, and thus are much smaller. But at the same time, very interesting.
I have also set up a trial file download on line through RAPIDSHARE. This download service may seem like a pain for free users. One has to fill in letters for each file, after an annoying time limit. I have a RAPIDSHARE account, mainly because of the large amount of offshore radio recordings available via this method. The time restrictions are removed, as are the letter coded files. It is a simple case of downloading as fast as the connection allows, including multiple downloads. RAPIDSHARE by default does not allow files larger than 100meg, and thus requires WINRAR to split and rejoin the files.
The user should download every file one by one, and then UN RAR file 1. After a few minutes the original PERSEUS .wav file should be rebuilt and ready to play. The file will not be complete if even one of the RAR files are missing. I will be interested to hear of anyone who manages to download this.
The links to my file are below. This was recorded in SW Scotland, on 29th December 2007. This was a good day for X Band Texans, and the recording runs from 0758 to 0808 and includes good signals on 1620, 1520, 1530, 1700, etc. Alas, this is probably not the best upload in terms of stations on every channel. It is however a good indicatior of the hf end of MW here in SW Scotland. The band was a little more active 10m earlier this day, and included better IDs from 1630 KKGM. I think they play past the top of the hour in this example. Frequency covered 1300 - 1700kHz. Most dx is on the hf part of this recording.
NB: Remember the full set of 13 .RAR files are required to rebuild the original file.
http://rapidshare.com/files/93297877/071229_0748.part02.rar
http://rapidshare.com/files/93306702/071229_0748.part03.rar
http://rapidshare.com/files/93314601/071229_0748.part04.rar
http://rapidshare.com/files/93321668/071229_0748.part05.rar
http://rapidshare.com/files/93328594/071229_0748.part06.rar
http://rapidshare.com/files/93335903/071229_0748.part07.rar
http://rapidshare.com/files/93344051/071229_0748.part08.rar
http://rapidshare.com/files/93352849/071229_0748.part09.rar
http://rapidshare.com/files/93362367/071229_0748.part10.rar
http://rapidshare.com/files/93373259/071229_0748.part11.rar
http://rapidshare.com/files/93384329/071229_0748.part12.rar
---

PERSONAL OBSERVATIONS: UPDATED AND REWRITTEN - FEBRUARY 2008

INTRODUCTION: I was lucky to "grab" my receiver when I did, in November 2007. Such is the interest generated by this revolutionary piece of kit, that there seems to be a substantial waiting list. I am not surprised. PERSEUS has completely transformed my dxing habits. Completely.

Much of my original article was hurriedly written to "get it on line" as fast as possible. Some of the text was written after only a few hours use, when I never really had a "full handle" on all the controls. In February 2008, I now feel a little more qualified to pass comment and even judgement on the PERSEUS, now that I have been actively using the receiver for about two and a half months. It does somehow seem longer.

Originally my personal observations were included along with basic operation details. I have now separated much of the text which is now mostly included in the "operation" page. My intention when I wrote the initial text, was simply to answer a lot of basic operating questions I had in my own mind before I managed to source a PERSEUS, with the hope that it may also be helpful to other dxers. It seems these pages have generated a lot of interest in the last few months. Much more than I ever imagined.

I have deliberately described my observations in "layman's terms" rather than "lab test" terms. I personally prefer to be able to test a receiver on my own known antenna set up, observing MW/ SW bands as they are at my own qth. This could be called the "ear test" rather than the "lab test".
---
DISCOVERY OF PERSEUS: For a long time I believed in my head that the PC and all it's associated RF noise is certainly no place for a communications receiver to be situated. I viewed the initial SDR radios with a degree of suspicion. Why would I want to use a PC to act as a radio for no other reason than because I can!! I have good communication receivers, and could see no reason to even think about an SDR "set".

A while back, I was reading an article on the then current SDR receivers on the market. My attention was captured by comments about recording great chunks of frequency spectrum, and being able to playback at a more convenient time, and still use all the receiver's functions as though it were live off air. The article in question was written by MW dxer Jack Webster, and seemed to suggest that we were maybe 10 years away from being able to record the full MW spectrum in one pass. The freq span limit was 190kHz at that time, but the impression the article portrayed was that there was much room for improvement in operation. This was only in November 2006.

In October 2007, I was reading the WWDXC on line weekly report, and saw a mention of Perseus. I had never heard of this. I visited a few web sites, and found my way onto the Perseus yahoo group, and could not believe what I was reading. A receiver that could record 400kHz of spectrum and play back at a convenient time. I think my heart missed a beat. A third of the MW band!! I had to e mail fellow dxer Guy Atkins in the States, to verify I was not mis reading the articles, and that this receiver really could record and playback 400kHz of bandwidth. As it turned out, I had not misread.

That immediate attraction to the Perseus was exclusively due to the 400kHz recording capability. For a MW dxer, this is equivalent to using a bank of 40 receivers for the North American MW channels every 10kHz, and a further 40 odd for the 9kHz Euro channels in between. (Some frequencies are of course the same, 540, 630, 720, 810, 900, 990, 1080, 1170, 1260, 1350, 1440, 1530).
How the shack might look with a bank of 40 NRD515s !!!!
Now in February 2007, we eagerly await the release of PERSEUS 1.0, which opens the receiver up to 800kHz recording bandwidth!! I shall omit the story about the bank of 80 receivers!! The ultimate bandwidth for a MW dxer of course would be 1200kHz. Another 400kHz and we are there!! This would take in 530 - 1700 inclusive, with just a little room to spare.

PERSEUS ARRIVES: With an SDR receiver, gone is the look and feel of the controls of a conventional communications receiver. It is no more than a USB box, and hence the phrase "Black Box Radio". A very clever little box as it happens. My "box" arrived late Wednesday afternoon 21st November 07. I initially tried only the software I had downloaded, BETA 0.2, but clicking this file produced the message "can't find a Perseus" or similar. I checked on the CD which came with the set, and of course I needed the drivers as well. After the install, the radio burst into life, without any messing around with settings on the sound card or anywhere else. It was operational straight away, on it's 1024 screen. I had already made up a BNC cable to go to my antenna panel, and had a long USB cable to keep it away from the PC QRN. The USB extension didn't work for some reason, which didn't matter as I don't seem to be bothered by QRN from the PC.

My first task was to excitedly record a 400kHz section of spectrum, so I recorded part of the spectrum which included Radio Beijing at 1700utc on 1521. My first DX from an SDR receiver.
I had the initial twiddle around to get used to the controls, and find out what everything does, or doesn't do. Once I had sussed that the mouse wheel on the second smaller pane controls the bandwidth, I thought, wah.. This is a powerful piece of kit. It is not just a case of varying the bandwidth, but you can widen one sideband and keep the other narrow, depending on which sideband the QRM is worst. And at that stage I never realised there is also a right click function to drag the shaded area around.

The first night I had the receiver, the DX on MW was very poor, as it was for the following week. Nevertheless on the same antenna I did seem to have slightly less splatter on VOCM 590 than on the NRD545. Surely a good sign!!

Since the initial trials I have been able to test the receiver to it's limits. I have uploaded a substantial audio page now for the PERSEUS rx. From a MWDX slant, AM is a good mode for jumping fast up and down the band, due to the sync AM taking just that little bit longer to lock. Sync AM is also good though.

I offer one major recommendation. Do not spoil the receiver for the want of a three pound mouse. If you don't have one, then go and buy a mouse with a wheel. I would judge it to be a requirement to enjoy the benefits of the Perseus SDR. "Even" laptop users would benefit from an external mouse. Maybe that should read "especially" laptop users. I can't imagine trying to work the software using the mouse pads found on laptops.
PC SPEC: For the record, my own PC spec. 2.8g Athlon, 512m RAM, Dual monitor graphics card.
---


NEGATIVE

USB PEN CRASHING: Perseus doesn't like ripping a USB pen/ memory stick in and out while the radio is on. The receiver simply locks up, and the software has to be restarted. Strange thing is, the Perseus is plugged into the front USB, and the pen, into the back of the PC. I have found a very simple solution to this so called problem. Don't unplug the "pen" when the receiver is operating!!

I have also noticed that playback of wav files is not effected. Only the live receiver.

RECORDED FILE NAMES WEIRD: Not really negative, but an unimportant oddity. If one tries to record with the PERSEUS receiver, the software does not allow a file name of for example 080209_0758. The name would automatically drop the zero to become 080209_758. If at a later time the file is renamed in windows explorer, PERSEUS recognises and plays back the new file name with no problems.
(This is due to using underscores in file names. Using hyphens etc does not show up this effect. Thanks Guido)


CHANGING FREQ WHILE RECORDING: Not really negative, but another unimportant oddity. Normally tuning is not possible beyond the outer frequency limits. Twice I have found that the CF step arrows below the frequency bar are lit while recording is in progress, and tuning is possible. The recording continued on the new frequencies. In the middle of playback, the received frequency changed OK, but the frequency bar remained at the old values. So in other words, it was tuning in the dark during playback. This happened twice, but have not been able to recreate the conditions needed to light the arrows again. Probably just a glitch in the software, which probably needed a restart.

PC CRASHES WHEN A RECORDED FILE IS MANUALLY PLAYED BACK AT THE END OF THE FILE:

ANTENNA CONNECTION: A VERY MINOR POINT: BNC style connectors are not as common compared to say F connectors, which satellite receivers use. I was lucky enough to find a lead with a decent BNC kicking around, but I don't imagine many people will have a BNC in their junk boxes. Many may appreciate a length of cable with a BNC already attached being shipped with the Perseus, or a BNC to F socket adaptor. Reminiscent of the kids Christmas day toys having no batteries in the box, and of course the shops are closed!!

SOFTWARE REQUIRES THE HARDWARE TO BE CONNECTED BEFORE PLAYBACK OF A .WAV FILE: PERSUS operating software requires the hardware to be connected before playback is possible. WINRAD however does not require the hardware connected. A user therefore in theory can let a dx friend have a listen to a few DVDs with PERSEUS files using WINRAD, even if the dx friend doesn't own a receiver.

VERY MINOR POINT: I notice that the MEM BOX seems to need a scroll bar at the side to assist when frequencies have more stations listed in the database than there is room for on the display.
---

POSITIVE

POWER SUPPLY: The power supply which is supplied with the receiver shows no sign of strain. Heat can only barely be detected by touch, even after running for 24 hours.

FREQ BAR CRASHING REPAIRED: Like other dxers I have experienced a PERSEUS software crash when dragging the frequency scale from side to side quickly. This was a bug in beta 0.2, but fixed in beta 0.3.

AM AUDIO QUALITY IMPROVED: Beta 0.31 sound is certainly much improved over beta 0.2, but there is a real "Orban Optimod" sound to the AM audio from beta 0.1. (check my test on the PERSEUS Audio page). In BETA 0.2 the AM audio quality was a little watery, although perfectly acceptable. I know it isn't a hi fi tuner, but I felt the set was capable of a fuller audio, because on SSB you could "drag the signal area" closer to the carrier and produce a fuller richer sounding signal, even if it was SSB. I don't know what the audio would sound like on the tinny little cheap PC speakers which are shipped by PC suppliers. Haven't tried yet. I always use my PC plugged through an amplifier, and a pair of 15 inch disco / band style speakers. I also listen to my other receivers through the same system. (Never really been a headphone buff, the shack is far enough away from anyone to cause annoyance)

RECORDING: I have no problems running a software recording programme to record the audio of the single frequency I am tuned to, even when the 400kHz recording facility is active. I can also still tune withing the 400kHz. I have line outs from my traditional receivers as well as the PC connected through an audio mixer. The PC recording software I use has no problem recording from the line in, while the line out is playing PERSEUS audio. Therefore I can give the audio a bit extra via an equaliser. This system is used to record single stations being listened to live, or IDs heard via the 400kHz recordings. I can even use the recording software to record from another receiver independently, and still record the 400kHz PERSEUS file.

PERSEUS RECORDING THROUGH WINRAD: Playing back a PERSEUS recording on WINRAD, allows the user to extend the frequency to maximum 500kHz sample rate, and not 400kHz. This is seen as an extra 50kHz either end of the PERSEUS 400kHz file. I don't know whether this should be negative or positive. It is positive in the fact that WINRAD allows this small frequency extension. Negative from the respect that PERSEUS software doesn't allow the bandwidth to be opened just a little wider. The outer limits are however "dubious terrain".
BBC RADIO SCOTLAND 1620: I know the following test is crude, but here goes.... I have a strong signal from 100kw BBC Radio Scotland - Westerglen 810kHz (50 miles away approx). Some receivers show up a signal on 1620 if plugged into an antenna with no ATU. Oddly I do not have the same effect on 2070, twice the frequency of my local MW station, ILR AYR which is only about 12 miles from me, and rather strong as well.

A test of my receivers tuned to 1620 daytime, all using the same 1/4 wave inverted L roughly cut for the hf end of MW.

Receivers this effect shows up on:

LOWE HF225E: S8 on the tiny Lowe meter.

AOR7030: S8 on the LED AOR signal "meter"

NRD545: S5

Receivers this effect does not show up:

NRD515: Nothing, not a trace. (bomb proof front end),

RACAL RA17: Manually able to tune image in or out with the RA17 (this set is from the 1960s!!)

PERSEUS: There is no sign of this problem what so ever on the PERSEUS. (Despite an S5 on the NRD 545).
---
---


COMMENTS ON RECEIVER FUNCTIONS

FRONT END: Preset, Preamp and Dither. Neither seem to have any noticeable effect.

PLAYBACK: Initially I found the playback progress bar to be a little sticky, and not like for example, WINAMPs bar. The Perseus seemed to go into "jam" mode, and stick. The playback worked fine if the recorded file was played from start to finish. After another attempt, I discovered the error of my ways. I was dragging the progress bar using my "winamp" brain.

ADVANCE PLAYBACK BY A FEW MINUTES: To jump forward and back in a PERSEUS .wav file, left click, hold and drag to create a new line which the player will immediately jump to on mouse release. The new line will be a much paler shade of yellow, when being drawn. If the user merely tries to click to advance the player, the output sound may seem to "stick". The player is probably in fact playing a very small selected area over and over again.

Trials with a couple of 1.7g files recorded on a DVD, play back from the disk flawlessly. There is no jerky behaviour when reading from the DVD

The light yellow line to the right before the mouse button is let go. As soon as the button is released, the deep yellow line jumps to the new place on the progress bar.


MODE: I haven't quite sussed what USER setting is for in the MODE BAR..

DRM: DRM is selectable on the mode bar. I have to be honest though and say I have had no success with DRM. For me that is not important, but it would have been nice to have it as a function. Using DREAM, the best I have ever seen is a station id on the DREAM screen.
S METER: Has RMS and Peak settings. Haven't really found out what the intermittent display ADC CLIP really means. My own preference in S meters has always been the old fashioned analogue meters like on an NRD515.
MEM box: This is related to the database files which have been added since BETA 0.31. Personally I am not sure how I feel about say CHINA RADIO INTERNATIONAL automatically coming up on the screen when you select a certain freq, knowing fine and well it isn't China Radio you are listening to. May have limited use for MW dxers, but probably much more helpful when dxing on the SW bands.
NB LEV control seems only to bring in unwanted mush from somewhere. Not sure of the usefulness yet. Kept off.
---
WHAT COULD I SUGGEST FOR FUTURE UPGRADES:

NICO has just about thought of everything in his design. The operating software is so user friendly and non cluttery, I feel that any improvements and fine tuning are going to be minimal.

MEMORIES: Memory channels would be handy to be able to store mode, PBT when activated, freq etc all per channel, and be able to turn the mouse wheel to zip up and down the pre programme channels. My NRD 545 is pretuned to memory channels 053 – 171 to the North American 10kHz frequencies for MWDX. The drawback with the NRD is that the PBT is not storable per memory channel.

NOTCH FILTER: A notch filter is planned, but not activated in BETA 0.31. I assume it will be as sharp as that of the NRD 545. I could see that as a benefit.

TIMER FUNCTION: A timer feature that allows PERSEUS to record for example at the top of the hour, at various user defined times throughout the night. This would seriously benefit dxers.

SPLATTER KILLER: If "The Splatter Killer" by Jurgen Bartels feature was somehow able to be incorporated in the Perseus, this would be the second selling point. MW dxers are a breed of their own, and listen in such tight splattery situations. This looks and sounds like a wonderful idea, and the idea of any splatter reduction must surely be worth looking into.

PLAYBACK WITHOUT PERSEUS: I think the idea of playback of the .wav files without the receiver being connected is a good idea. I can think of various reasons, eg playback on a work laptop, whilst mobile, file sharing with non PERSEUS owners to check DX etc. This sharing may even bring more sales, perhaps hooking a non PERSEUS owner!! WINRAD incidentally will play the .wav files without the hardware being attached.

REMOTE OPERATION VIA WEB AND/ OR NETWORK:

VERY MINOR POINT: FREQUENCY BAR AT TOP OF WATERFALL: How about the frequency being shown at the top as well as the bottom of the main waterfall / spec window. There is room for an identical frequency bar at the top of the window. The same as that which is displayed at the bottom of the screen. When you drag the frequency bar, it takes a bit of time to see where on the spectrum the carriers are in the "WATERFALL" mode. I think the direction of the waterfall is more natural moving downwards, and a repeat of the frequency band at the top of the screen would be a welcome addition.

VERY MINOR POINT: SPAN: Maybe not even worthy of a mention, as it is such a minor point. User defined steps in Span function may be useful for some users, or even a continually variable bar option?? I saw this suggestion on the newsgroup, but being truthful I have never required anything other than the current choices. I very rarely use the SPAN arrows, as most tuning is made using "mouse over" the frequency display.

VERY MINOR POINT: RECORDED FILE SIZE: Recorded automated file size is around 1.757g, ie 10m recording time. Would there be any benefit of file sizes up to about 2.1g? The reason?? 2 files would fit nicely on a standard 4.38gig DVD, for archiving. As it stands, two files can fit on a DVD, but with much spare/ wasted space. Maybe even a user defined file size could be an option??

VERY MINOR POINT: Would it be difficult to allow user defined colours for the text. My own personal preference would be plain old WHITE on the dark background, or better still black text on a white background, like I use for my mwdx web site. (Maybe I am too plain in my outlook!!)

VERY MINOR POINT: Would be nice if the unit "remembers" / maintains the previous settings at switch on.
---
OVERALL: I can imagine me at a time in the future, recording a full hard drive or two and keeping them in storage as a sample of wideband MW spectrum. This would serve as a superb piece of broadcasting history in the future.

This is one reason to allow the large files to play without the radio connected, incase the radios are all broken in years to come!! If I had this technology in 1988 when all the Irish pirates were closing on 30th and 31st December, I could have recorded a large chunk of the spectrum at the one time…
My final words on the set for the moment… AMAZING. To Nico for his superb work, well done. PERSEUS does everything I had hoped it would do, and much more.


Ken
Scotland
www.tadx.mediumwaveradio.org
---