RADIO SLIGO - CO SLIGO



ARCHIVES
WITHOUT CLUTTER
Radio Sligo , Co Sligo (1981 - 1982??)
1260
========================================================

IRISH PIRATES A / Z

1981 VISIT TO RADIO SLIGO
Radio Sligo was a station that we discovered to be operating when we were in Co Rosscommon in 1981, It was never heard by any of us in the UK, and it is unknown if it was ever heard outside Ireland.

The neat studio, note the controls above the fader are cleverly covered.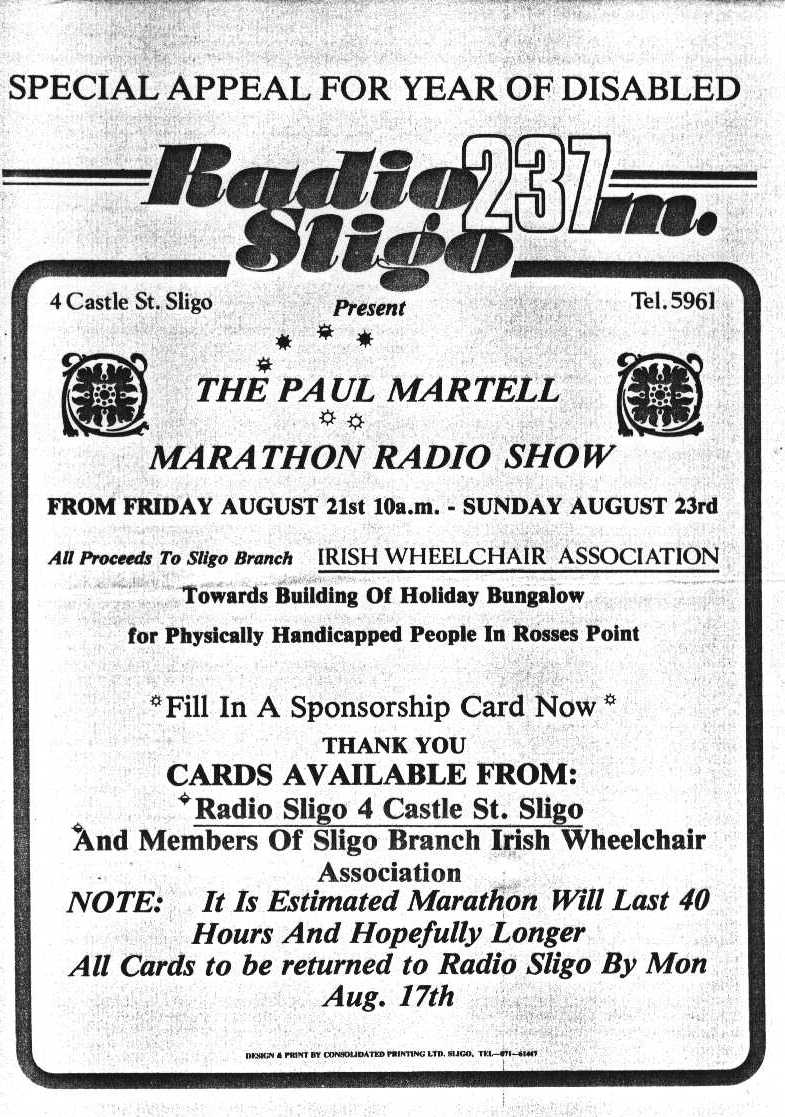 An advert which appeared in a local newspaper about the charity event.
| | | |
| --- | --- | --- |
| 1981_08_16_sun_sligo_1260am-237m_0810_0950_paulmartell-gh.mp3 New Nov 2021 | This was a partially airchecked recording made on a Sunday morning after camping overnight at WABC in Ballaghaderreen. Recorded from 1260kHz with some crackling due to the distance from Sligo, this is Paul Martell, with later on, Elizabeth Burns reading poetry. The station announced as 237m. There were adverts for Paul Martell doing a charity broadcast Friday 21st to Sunday 23rd August. A newspaper advert regarding this can be seen on the Radio Sligo Home page. | 89MB |
| 1981_08_16_sun_sligo_1260am-237m_1115-1300_marvinhamilton_berniefallen_markmarkini_davidhamilton-gh.mp3 New Nov 2021 | This recording starts as we were driving from Ballaghaderreen to Sligo and is partially airchecked. We arrived in the town as Marvin Hamilton was finishing his show and handing over to Mark Marquee for the ceili show until mid-day when there was some comedy followed by David Hamilton. Recorded in the car from 1260kHz. | 98MB |
| 1982_07_22_thu_sligo_1260am_0800-0832_johnohara-gh511.mp3 New Nov 2021 | This is part of a breakfast show presented by John O'Hara. News and weather is also read by John O'Hara at 0830. The signal on 1260kHz / 237m is a bit noisy and the levels were a little low in places. It is not known where this was recorded. | 30MB |
========================================================
IRISH PIRATES A / Z